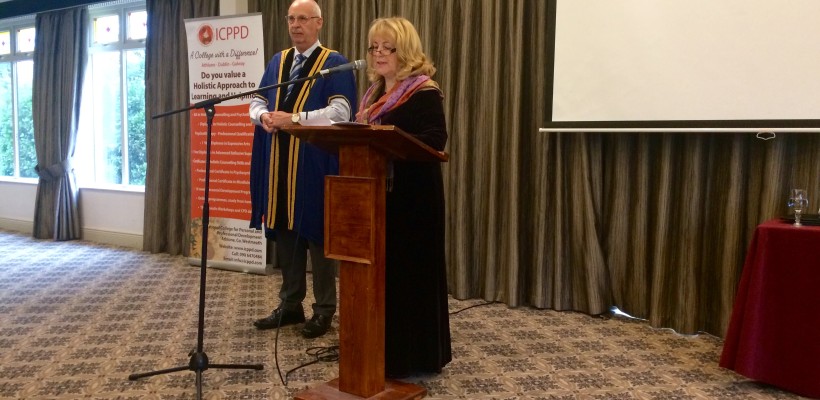 Graduation Speech by Christine Moran, Academic Director, Founder of ICPPD
Welcome to our 2016 Graduands, Learners, Tutors, Clinical support staff, Administrative Staff, Distinguished Guests, Ladies and Gentlemen and Children,
I am delighted to be here on this joyous occasion of celebrating the graduation of our learners, in particular the learners on the 3 year Diploma in Holistic Counselling and Psychotherapy, all of whom had previously completed a 1 year Introduction to Holistic Counselling and Psychotherapy Course in ICPPD and elsewhere.
I would like to acknowledge and thank the partners, families and friends of our adult learners. We appreciate the sacrifice and help you have given your loved ones during the last 3 years, so they could be here at ICPPD to learn and manifest their sacred dream. Your support was vital.
This graduation is a culmination of a long and challenging journey in pursuit of academic excellence. It symbolises the transformation of learners from the anxious and enthusiastic entrants 3 years ago to a group of dynamic professionals equipped with the necessary knowledge, skills and attitudes who are ready and willing to take up any opportunity available to them.
We are here to honour these hard working learners who carry the torch of our next generation of healers, counselors and psychotherapists.
These learners heard their heart's call to step-up to their Higher Calling.
As Learners you have put hundreds of hours of your time and hard earned money to learn the theory, skills and the practice of holistic counselling and psychotherapy at ICPPD in Athlone, Dublin, Galway and Wexford.
You attended college every second week-end for 3 years, had personal therapy and external and in-house supervision, attended progression meetings and integration evenings.
Let's briefly scan all you did during the last 3 years:
The following modules – Person Centered Approach, Personal Development, Lifespan Development and the Journey Principle, Counselling Skills, Cognitive Behaviour Therapy, Psychosynthesis Psychotherapy, Group Process and Group Dynamics, Gestalt Approach, Loss and Bereavement, Professional Development, Psychodynamic Perspectives, Advanced Counselling Skills, Family Systems, Abnormal Psychology and Mental Health Issues, Ethics and the Law, Research Methods and Clinical Practice.
10 Additional mandatory workshops over the 3 years included – Meditation and Mindfulness, Chakras and Expressive Arts, Body Psychotherapy, Sexual Abuse Healing, Working with Clients who are Suicidal and Self-Harming and Sexuality-A Personal and Professional Resource.
The learners graduating today can hold their heads high as they proclaim, without fear of contradiction – they came, they saw and they conquered. For us at ICPPD, we are proud to release to the profession of counselling and psychotherapy in Ireland our latest graduates.
With unwavering determination, we at ICPPD, continue to be an institution of excellence, we remain committed to deliver to the field of counselling and psychotherapy and indeed to society in general, consistent quality in the form of our graduates who are educated and trained as informed, competent, ethical and compassionate, psychological therapists.
Our national validation and accreditation bodies are the framework that upholds academic and professional standards at ICPPD; we are pleased to have the involvement and approval of QQI, IACP and NAPCP.
On a personal note – I gratefully received the Carl Berkley Award from IACP last weekend. It was indeed an honour.
I met the late Carl Berkley almost 20 years ago at his home for a short supportive meeting to discuss accreditation. On leaving he said to me – words that influenced me since then – "Follow your heart and be yourself Christine".
I say to you today – Follow your heart and be yourself – do you know the expression – all you can be is yourself – I invite you to rephrase this to – be all of yourself!
In this field (that we choose to be part of) – as trainers, tutors, supervisors, therapists, clients – we are all pilgrims on a continuous journey of self-discovery and learning – we are all involved in the on-going work of loving self and others to health and wholeness.
I use the word "loving" consciously; it supports a profession that has at its core – empathy, integrity, non-judgemental attitude, congruence, compassion, acceptance and ownership of our human frailties and our creative resourcefulness and resilience.
Our journey to self-realisation is the embodiment of being the best version of self – being all of yourself.
We sometimes shrink in shame, guilt and other deficit ways of being and behaving into our woundedness, instead of humbly acknowledging our humanity and expanding into our greatness and letting our light shine.
Letting our love, our joy, our happiness, our hopes express itself without apology.
We are moving towards statuary regulations for our profession in the next 3 to 4 years, which in itself is a welcome movement that supports good practice.
Sometimes others have a difficulty understanding our profession of counselling/psychotherapy and our work as holistic therapists – as instruments of change – exquisite witnesses – gardeners of the soul, professional helpers who are intimately collaborating in therapeutic relationship and process, supported by relevant theory, skills and techniques.
It is important that you, as ambassadors of this profession – inform and help people, to hear, to see, the sacred work you do with your clients – this will be, and is demonstrated – by your ethical behaviour and the way you live your life.
It is important that you continue to nourish yourself physically, mentally, emotionally and spiritually – that you continue to grow both personally and professionally through –
Ongoing deepening personal therapy, effective reflective supervision, networking with your peers, self-care – open, honest communication and taking responsibility for yourself and your actions are paramount as you go forward in your chosen career.
Be well, be safe and be happy.
The Certificates and Professional Diplomas you will get in a short while is our guarantee that you have been trained, tested and tried and found to be worthy of the award. We therefore invite you to come and claim your award.
It is for this reason that this ceremony is such a momentous occasion for all of us gathered here today. To all of you graduates, we are proud of you for successfully completing your various courses. Well done and congratulation everyone.
It has been said that for you to succeed you need three kinds of power; the power to begin, the power to continue and the power to finish. You have had all the three powers.
Today, we give you the forth power.
Go out there and be our ambassador.
We believe you have the ability to make yourself and society better. We wish you success in whatever you focus on.
In conclusion, may I take this opportunity to thank you all for gracing this occasion; it is your presence that makes it so colourful and meaningful for all of us.
Once again thank you very much, may you walk in Beauty and Kindness –
Christine