ICPPD held an Information Evening in ZestLife College, Churchtown in Dublin on 30th June. While Zoom has brought many benefits, after 2 years of virtual Information Evenings it was really lovely for the ICPPD team to meet the interested applicants in person. There was a great turnout on a balmy summer evening and our hosts in ZestLife provided delicious refreshments.
Founders of ICPPD, Christine and Tom Moran explained their background in the counselling and psychotherapy profession and gave a presentation about ICPPD, the college's holistic ethos and the programmes on offer, in particular the 4 Year BA (Hons) in Holistic Counselling and Psychotherapy and the 1 Year Add-on BA (Hons) in Holistic Counselling and Psychotherapy. Attendees were also given information on ICPPD's Introduction to Holistic Counselling and Psychotherapy which serves as an excellent introduction to the area of counselling.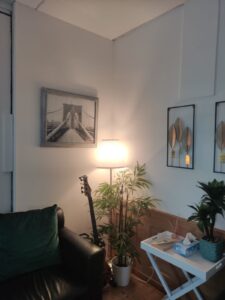 The evening was enriched by diversity of people who travelled to Churchtown with an interest in finding out more about career in counselling and psychotherapy. The ZestLife therapists who supported the event made valuable contributions about the counselling profession. An informative questions and answers session covered various topics such as professional career opportunities, academic course requirements, clinical practice requirements, supports for learners and the admissions process.
Since our foundation in 2010, ICPPD has become a leading provider of accredited personal and professional programmes with a difference, nationally and internationally at undergraduate and postgraduate levels. The college has earned a reputation for learner care and academic excellence. Following 12 successful years of delivering counselling and psychotherapy training courses in Athlone and Galway, we are looking forward to delivering our BA (Hons) in Holistic Counselling and Psychotherapy in Dublin and to commencing with a new cohort of learners in September 2022.
Applications are still being accepted and further information can be found here