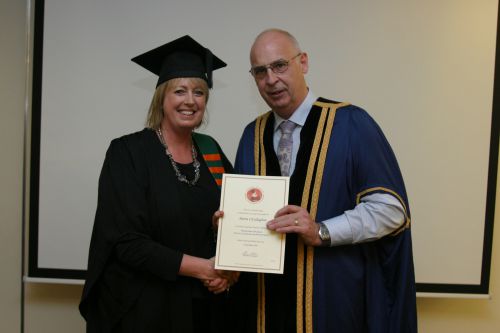 An interview with Maria O'Callaghan, a former ICPPD learner
In a bid to ensure that we always provide excellence in third level education, ICPPD learners' feedback is very important to us. One of our past learners, Maria O'Callaghan, who completed the Professional Diploma in Holistic Counselling and Psychotherapy, kindly gave some time recently, to answer a few questions about her academic and professional journey.
How did you initially hear about ICPPD?
I heard about ICPPD through an acupuncturist I was attending she knew of my interest in counselling and my philosophy in relation to a holistic approach to wellbeing so she advised me to contact Christine.
Had you always wanted to pursue a career in Counselling / Psychotherapy?
I developed an interest in counselling through my work as a nurse particularly when I worked with families of children with life limiting illnesses and saw the impact this was having on the child, their families and staff, and the realisation that the medical model could not support the fallout from such emotional impact.
How did you manage your work/life balance while studying?
I had amazing support from my family, friends, classmates, ICPPD tutors and all the ICPPD college staff. It was also a focus of my ICPPD training to highlight the importance of incorporating self-care in my day to day life. I found the requirement of personal therapy a huge support and in addition the support of my supervisor when I started my clinical hour's requirement.
Do you have any motivational tips for students currently doing the course?
The Professional Diploma in Holistic Counselling and Psychotherapy has been an incredible experience and provided me with valuable learning both on a personal and professional level. The ethos of support, kindness and investment by the college was outstanding and I am so grateful for the growth I experienced on an emotional, physical and spiritual level.
What would you say to those who are considering but still undecided about committing to a 3-year course or long term study?
This is a challenging course that will push you to examine your whole way of being in the world, however the support, guidance and understanding by the ICPPD college staff and your peers will allow you to discover strength and wisdom within yourself that will enrich your whole life.
Apart from your qualification, do you feel you have gained any other positive elements from studying at ICPPD?
I have discovered personal depth and innate wisdom within myself as well as the confidence to hold a sacred therapeutic space for people who are experiencing great emotional pain. I think that ICPPD facilitate the development of a deepened self-awareness that allows for valuable self-reflection and reflexivity that I have not experienced elsewhere and those skills continue to support my personal and professional growth.
What are your plans now that you have qualified?
I completed an MA in Pluralistic Counselling and Psychotherapy during the summer of 2017 and have just recently completed the Art of Group Facilitation. I currently work as a sessional counsellor in Trinity College two days per week and support the facilitators of the Group Process Module in ICPPD for 1st and 2nd years in Athlone and Galway. I would like to continue to develop my clinical practice and tutoring skills and hope to continue to contribute to ICPPD as a tutor.
Is there anything else that you would like to add to your journey/progression of learning with ICPPD?
On my first visit to ICPPD and meeting Christine I truly felt that I had arrived where I was meant to be, the holistic essence and ethos of the college was palpable. My learning with ICPPD has been an amazing experience and while challenging at times, the tutors, college staff and my peers were a constant source of support, encouragement, care, guidance, knowledge and most importantly made it a thoroughly enjoyable and valuable experience. I feel very grateful and privileged to have been part of this course. I have gained the confidence and realised the possibilities for changing my career and enhancing my life goals. I feel that I cannot express my thanks appropriately for the experience and the people who are now an important part of my life but I am sure I will continue to gain a deeper appreciation for my experience within ICPPD as I continue on my life journey.
We would like to thank Maria sincerely for taking the time out of her busy schedule to answer our questions. We hope her journey at ICPPD will help to both inspire and motivate adult learners completing, or embarking on third level education in particular counselling and psychotherapy training.
For more information on all of our courses please click here.