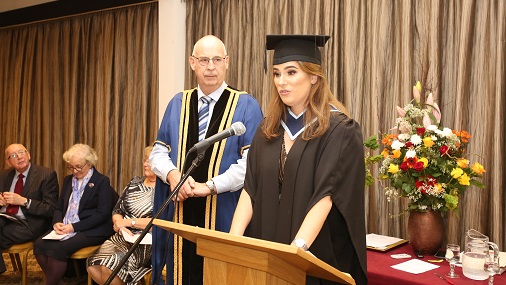 Graduation Speech by Emma Healy
Emma Healy, Graduate of BA in Holistic Counselling & Psychotherapy 2018
Three years ago… I sat in one of these seats when I received my cert in counselling, and I remember listening to one of the students, who was graduating after completing her degree, speak. I remember thinking about all the hard work it would have taken to commit to and get through a degree course and I also recall admiring how well this student spoke and thinking I would never have the courage to stand up here in front of all those people …. but here I am!
This course hasn't given me the ability to speak perfectly in public….it has given me something much more important…. I now have the confidence to stand here in front of you all and be open and honest about how nervous I am, yet go ahead and do it anyway. I am well outside my comfort zone, but I have learned through my experience from this college, that this is where change takes place, if I am willing to take the risk! So here goes ……
Over the last week or two, I've spoken to some of my classmates about their experience of the course and in order to give you all a real sense of this I'm going to read out some of what they told me.
One person stated:
"Returning to education after 25 years was a huge step, but ICPPD made this transition easy. There was always a sense of being held by the college….and having the best classmates made the three years fly by. There was never a competitive aspect, but rather we were all on a journey together which cemented the group. Without a doubt, it was one of the best experiences of my life and not alone have I gained a new profession, I've also gained life-long friendships that I could not be without now."
Another peer said:
"My 3 years with ICPPD were life-changing. A time of discovery and reflection, a time of learning about 'me' in the bosom of a special group of people. Sharing laughter, sharing tears and fears, there were ups and downs. Learning to trust, learning that I am good enough as I am. Hoping and believing that I can bring this experience and learning with me as I meet clients and also into my own relationships."
An account from another group member:
"The past three years have been both rewarding and challenging in equal measures. The idea that you embark on a journey to help other people quickly evolves into one of self-discovery. The course pushed me beyond my comfort zone while supporting and encouraging me to alter what I thought I wanted and to be more authentic to myself in what I really did want. For me, this was very liberating, and the support of the group and the firm and unforgettable bonds made, I hope will stand the test of time.
To finally share a space with a client and in turn support them in figuring out what they really want is a privileged position. It's not just any course – it truly is a life-changing journey."
The experience from another student's point of view:
"The biggest thing I can take form my 3 years of learning at ICPPD is being provided the space to learn more about myself in a compassionate and supportive environment. The more I learned about myself, the more I could understand about others. In this constant flow of learning and teaching, receiving and giving, I have been able to learn and share in a kind and congruent way. A way of being that ICPPD has illustrated from the beginning. I'm grateful for those who shared one, two or three years with us and aren't here to graduate today. They have all been such important members of the group. The whole experience would not have been accomplished without the entire college. That encompasses the tutors, the academic directors and my peers. The connections and sharings we experienced will never be forgotten….and I am forever grateful for them."
So, as I read these out, I can't help but notice the similarities and patterns that emerge. Phrases such as life-changing, tears and laughter, making connections, a journey… All of these words paint a vivid picture of the true essence of what ICPPD is all about. A course like this doesn't happen by accident. The values and ethos of this college runs through each and every person that plays a role.
I want to take this opportunity to thank you all on behalf of everyone that is graduating today. To Christine and Tom, to all of the tutors that have imparted their wisdom and experience onto us, to Ethna – our core tutor – we have all learned from you the importance of "trusting the process". And to Noreen and Chris – who were always available and always giving.
I will finish with a quote from Maya Angelou which I feel depicts perfectly the sense that we all felt from ICPPD and that we can hopefully pass on to our own clients.
"I've learned that people will forget what you said,
people will forget what you did,
but people will never forget how you made them feel."