ICPPD Online Introduction to Holistic Counselling and Psychotherapy
Distance Learning Programme / Blended Learning Programme
Take the first step to a Career in Counselling and Psychotherapy
Counselling and Psychotherapy is a satisfying career that can change your life as well as the lives of your clients. If you are considering becoming a Counsellor, you are probably genuinely interested in human behaviour, and have a strong desire to help others improve their mental and emotional well-being.
Research and experience tells us there is an ongoing need for well-trained counsellors and psychotherapists in Ireland. There is increased acknowledgement and recognition of the growing need for Counsellors within the HSE, community services, primary care groups, schools/colleges and the private sector.
ICPPD's Introduction to Holistic Counselling and Psychotherapy, offered in DISTANCE LEARNING mode, with an (optional) additional BLENDED LEARNING workshop component for those who want to integrate theory and skills, is an ideal foundation for you to engage with if you are considering a career in Counselling and Psychotherapy and the academic and experiential training required in such an undertaking.
This Introduction to Holistic Counselling and Psychotherapy is a foundation-level counselling and psychotherapy course with a difference!
This Course serves as an excellent introduction to the area of counselling, and teaches general counselling skills that will benefit people in both their personal and professional lives, particularly those who regularly work with the public. At ICPPD personal development, self-awareness and creative expression is seen as key components of any training and education programme.
The distance learning course is highly-interactive and combines personal development with counselling theory and skills, and concludes with mindfulness. The online mode is ideal for people who cannot commit to a classroom setting or who would like the flexibility of online study.
In addition, on completion of the distance learning/online programme, learners may choose to undertake one experiential weekend where learners get the opportunity to further integrate their personal development, communication skills, mindfulness practice, and the application of counselling theory to practice.
The Introduction to Holistic Counselling and Psychotherapy is a good way to develop an individual's knowledge, understanding and appreciation of counselling, and will appeal to those who are seeking to discover the different theories and approaches to holistic counselling and psychotherapy, to explore their own personal development and to develop basic counselling skills, while also seeking to be more mindful and present in their lives.
The course is delivered, via a virtual learning environment, through a combination of course materials including academic PowerPoint presentations, video demonstrations, journal articles, exercises, etc. and facilitated by a recommended reading list. Online learners are fully supported by the Course Tutor (through email and by phone), and will also have access to our comprehensive online library.
Entry Requirements: No previous experience is necessary to embark on the programme. You should feel that you possess a maturity to reflect on your development as a person. The programme offers an access opportunity if you wish to return to education, and is a suitable starting point for anyone wishing to follow professional training in this field. Interested candidates are required to complete an application form, plus a brief interview (which may be conducted over the telephone).
There is no specific commencement date for this distance learning programme. You can start at anytime at your own pace.
Programme Learning Outcomes: On successful completion of this programme you will be able to
Understand and appreciate the key concepts of counselling as a form of helping.
Learn and practice key theoretical frameworks for counselling and the skills required to implement them.
Reflect on their personal growth and life experiences as a resource.
Communicate effectively and have improved self-esteem and confidence.
Discuss how mindfulness practice promotes wellbeing and reduces stress.
Progression: Those who successfully complete this programme may apply for entry onto ICPPD's Bachelor of Arts degree in Holistic Counselling and Psychotherapy (subject to successful application and interview), or a similar programme at another third-level college.
Course Modules/Content
Participation in personal awareness activities for self-esteem and mental health issues, assertiveness training and interpersonal communication skills.
Introduction to theoretical approaches in counselling, including humanistic, psychodynamic, cognitive behavioural and transpersonal approaches.
– Basic Counselling Skills
Introduction to basic counselling skills.
– Introduction to Mindfulness & Mindful Living
Completes the course and supports the holistic focus of the programme.
Assessment for this course is through written assignments of 500-1,000 words, at the end of each module.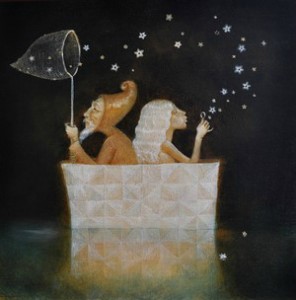 The work of Scottish artist Lucy Campbell
"It is wise in your own life to be able to recognize and acknowledge the key thresholds; to take your time; to feel all the varieties of presence that accrue there; to listen inward with complete attention until we hear the inner voice calling you forward. The time has come to cross" – John O 'Donohue.
Student Testimonials
I wholeheartedly recommend ICPPD. The introduction to Holistic Counselling and Psychotherapy course was an excellent course. I liked everything about this course, the content was excellent with the three modules of personal development, counselling skills and introduction to theory of counselling and were facilitated by three excellent tutors. I have become more self aware and completing the assignments helped me learn and has given me more confidence in every day living. The course has instilled a great deal of self belief and understanding my own well being which I can carry with me into the next chapter of my journey. This course has prepared me very well for the BA in Holistic Counselling and Psychotherapy of which I intend to do. I made lots of new friends and we continue to stay in touch. There was a great atmosphere in all of the classes and each class was filled with helpful tutors and participants which helped me believe in myself. We were all in it together and we all helped each other out. I loved every moment of this course. –  Paula Mulligan, ICPPD Student